7 Card Stud Poker
History of 7 Card Stud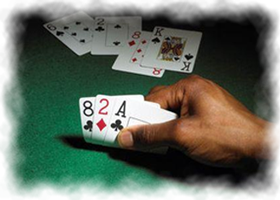 7 Card Stud was the most well liked game of poker being played in the world during the 20th century. It is said to have developed from a number of previous games to become the more dominant poker game until Texas Hold'em replaced it.
Poker is said to have come from New Orleans in the 1820s. 5-card stud was the first form of stud which was later replaced by many more popular draw games such as 5 card draw. During the early 20th Century the developed 7-card stud which became the more popular poker game.
The Game
When beginning to play 7 Card Stud you are required to place an ante on the table. This amount is set by the poker room and is usually a portion of a bet, and changes depending on the stakes of the game. Players will then be dealt 3 cards, with one face up and two face down.
If you have the lowest card value that is showing up you are required to make a bet known as the bring-in bet which equals half the lower limit bet. In a situation where 2 players have the lowest card value it is then determined by the suit, with clubs being the lowest then diamonds, hearts and spades. The next round of betting begins and players can decide whether to call, raise or fold.
Terminology
Fold - When the player quits the hand
Call - Place equal amount to what is in the pot
Raise - Place a higher bet
Play 7 Card Stud at:
Double Thunder's Best Online Casino To Play 7 Card Stud At:

High Noon Casino

High Noon Casino accept players from all states of the USA in addition to players from all over the world. They have an excellent selection of games - including 7 Card Stud which you can find under "Specialty Games" and a very easy to use interface. You can play the download version or the instant play casino. The download literally takes 3 to 5 minutes to download and signup is very quick. You can be playing within 7 minutes of reading this!!

High Noon Casino are offering a 200% welcome bonus up to $2000.00