5 Card Stud Poker
History of 5 Card Stud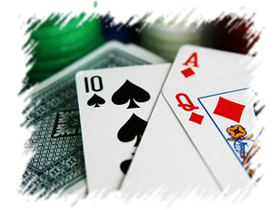 5 Card Stud is one of the earliest forms of stud poker which began during the American Civil War. Today 5 Card Stud is not played as much as 7 Card Stud and other Card games. In Countries such as Finland it is still very popular and played often. 5 Card Stud unlike 7 Card Stud is easily played at pot limit and no limit although the spread and fixed limit games are played more commonly.
The Game
To play 5 Card Stud you need to place an ante on the table which varies depending on the stakes of the game.
Each player will be dealt 2 cards which are placed face down and 1 card placed face up. The player who contains the lowest value of the face up cards will start the betting round with a bring in bet that is half of the full bet. Other players are given the opportunity to either fold, raise or call.
After the first round of betting has completed then another face up card will be dealt to each player. The player with the best hand of up cards will begin betting, since less than five cards are face up it means no full houses, flushes or straights are allowed. The second betting round is followed by a third up cards handed out to each player and a third betting round. The player with the best showing poker hand will begin. A fourth betting round begins with a fourth up card dealt to each player and so on until there is the famous fifth card.
The fifth and final card is handed out to the players face down in some games, or else the round is identical to the previous four betting rounds. This game is described as one down, three up, one down or simply put 1-3-1, while the more old fashioned 5 card stud is called one down, four up.
Play 5 Card Stud at:
Double Thunder's Best Online Casino To Play 5 Card Stud At:

High Noon Casino

High Noon Casino accept players from all states of the USA in addition to players from all over the world. They have an excellent selection of games - including 5 Card Stud which you can find under "Specialty Games" and a very easy to use interface. You can play the download version or the instant play casino. The download literally takes 3 to 5 minutes to download and signup is very quick. You can be playing within 7 minutes of reading this!!

High Noon Casino are offering a 200% welcome bonus up to $2000.00