2 Ways Royal Video Poker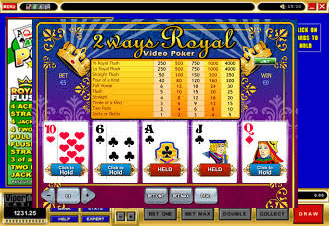 Most online Poker players like to stick to the traditional format and Two Ways Royal has a very similar format. The difference is what Playtech have called "Lo Royal Flush" You have guessed it – this variation is 2,3,4,5 and 6 of the same suit and pays the same value as the traditional Royal Flush.
The method of play is exactly the same as the standard game with an option to bet all of your winnings, or half of them. You are dealt five cards of which one is face up. You then pick a card from the face down cards and should it be higher than the face up card you are a winner!!
2 Ways Royal is a nice variation and has a certain appeal that is worth trying out!!
Play 2 Ways Royal Poker at: